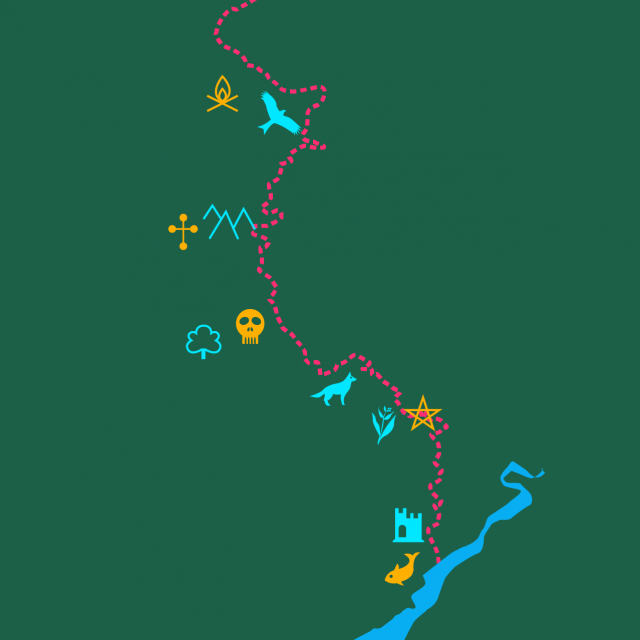 The Borderlands interactive map includes a series of nine films and seven artistic responses from artists and locals from the England/Wales border.
Following a call out to artists and locals living on the border, Gagglebabble's co-founder Lucy Rivers and filmmaker Siôn Marshall Waters were invited on nine walks. From August to October they immersed themselves in the dramatic landscape between Chepstow and Llangollen. Walking, talking and remembering... exploring identity, folklore, stories, getting lost and then find the path again. 
The artists who accompanied Lucy and Siôn on these walks created their own creative responses to their walk and the results are all beautifully unique and personal. Artists involved include:
Lucy Rivers (Gagglebabble)
Siôn Marshall Waters (Filmmaker)
Emma Daman Thomas (Islet)
Remy Beasley (Stella, Tourist Trap)
Chris Kinsey (From Rowan Ridge)
Olivia Preye (Mandra)
Robin Jones (Trials of Cato)
Tamzin Powell (The Witches Ways in the Welsh Borders) 
'I find borders and boundaries interesting, and they certainly seem to attract a lot of drama and tension. I like drama and tension, and being a border girl myself I thought it was fertile ground for exploration. As Tamzin Powell said on our walk in the Wye valley...
"Where there are two countries it's like a crossroads - it's a sacred place, a place where you can do magic, where your charms and spells can work, and it's also a place of death." 
I've had the desire to walk the Welsh/English border for a while but it took being locked down in my small terrace in Cardiff with a new baby that really made me yearn for wild walks with panoramas and broad horizons, and I was determined to make it happen as soon as we were allowed. We hope you enjoy exploring with us.'  Lucy Rivers
Borderlands was funded by Arts Council Wales and supported by Pentabus, who worked alongside Gagglebabble to produce the project.